Previously we have setup and published the hexo-based blog. The article source code and the hexo configuration files are under git version control.
Config theme, the wrong way
As most hexo tutorials, the next step is to change the default theme. There are lots of themes that you can choose from. However, most of the theme simply ask you to clone itself under the themes folder.
In this case, we will use the popular theme NexT. Its document specified follow below steps:
Install

1




git 

clone

 https://github.com/iissnan/hexo-theme-next themes/next


Update the _config.yml to use this theme

Pull the theme update when it is needed
The problem
For most of themes (including NexT), we will have to modify the theme's _config.yml file which is under the theme folder, in order to:
change the configuration on the theme level, such change theme style
update personal information
setup Google Analytic key
integrate with 3rd party commenting plugin
future customize the theme the way you want
Naturally, you would like to have above modifications also under version control, so you check them in and push to Git.
Now, if you head to Github source code page, you will find an interesting grayed-out folder named "Next"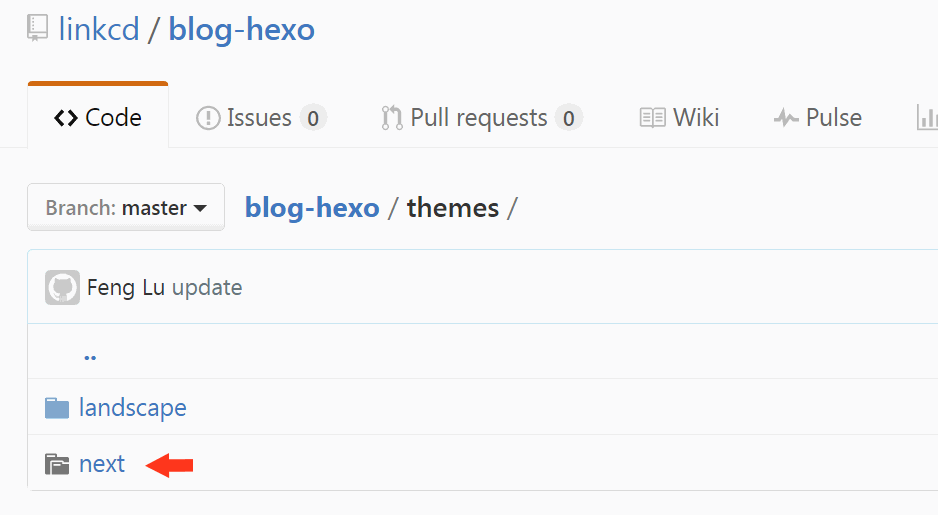 You also lost the possibility to browse the theme source code there.